The photographs of Chuck Zelms date back to the early 1970s when he received his first 35mm SLR camera. He wasted no time in documenting the environment that surrounded him. While he also documented friends and family in his images, the vast majority of Chuck's images are of natural elements. Sometimes, it is the magic of the light, sometimes the magic of the moment, and at times even the primary object in an image takes center stage. Most of his images are recorded on transparency film. In his early days of photography he was a Kodachrome junkie, then he shifted to using Fuji Velvia, the newest images are created with digital film. He dabbled a bit with black and white images but always returned to color transparencies as his medium of choice.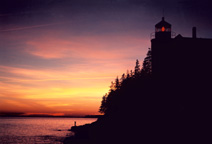 In 2001 Chuck graduated from 25+ years of corporate life as an engineer and manager, he subsequently decided to pursue his dream of marketing his most special images. Photography has always been a serious hobby for Chuck. He has been known to hike many miles lugging his equipment on his back, much to the surprise of the casual hiker, "just" to record an image. He and his wife, Linda, have chased countless sunsets looking for that one spot to record the most recent event. Even when the sun is not physically visible, many times the effects of the sunset light can rarely be equaled. He always reminds viewers of one special event: "My best friend and I were jumping out of our car in Maine wanting to get the Bass Harbor Head Lighthouse at sunset just as many people were returning to their cars exclaiming what a great sunset we had just missed." Never say "too late" to a photographer. Where there is light there is an image.  The sky was glowing. The sea was splashing and the light was perfect long after the sun was gone. The challenge was to time the lighthouse light so it was glowing during an exposure. The special light lasted for what seemed like an eternity. A wonderfully peaceful image resulted.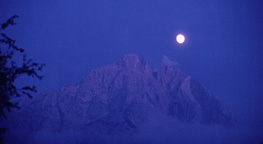 Many images are taken in low light settings capturing the moment in a manner that causes many people to ask what filter was used to achieve the brilliant and varied colors. Mr. Zelms uses all natural light with only an occasional use of a polarizing filter to enhance the color intensity or flash to add to the shadows.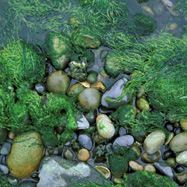 You might find Chuck wandering the Hocking Hills region or other natural places in Ohio or possibly at one of the many national parks in the United States and Canada. His travels have also taken him to Europe and the islands of the Caribbean. While there are many more "exotic" locations yet to be explored, he is quick to point out, many images are made "just around the corner". Many colorful and inspirational images are from his own extensive garden of annuals and perennials, public gardens and zoos, or even just along a local country road. His total image collection numbers well over 35,000. Out of this vast array of images, he has selected a few hundred to make available to those individuals who desire to preserve a special memory or for others who desire beautiful art work to adorn their living and work spaces. Out of those few hundred will be a smaller select group that will be in print at any given time.

Update from Chuck - June 2010 - Wow!, I see I've been adding images but not putting any notes in this section. I'm now over 45 Thousand digital images. The challenge is how to manage all of them. I have found LIghtroom from Adobe to be a great tool to use for cataloging images and doing intitial adjustments and fixes. I still use Photoshop also by Adobe to do the final preparation work on images before making prints. I found a old lab in Columbus that I like to use for my fine-art prints, R&L Digital Photo Lab. Their prices are good and the quality is consistent from print to print. I still occasionally use other printers if quality is not key.
You can see a lot of the places I visit by looking in my gallery and checking out the area called recent travels.
I'm still active with The Focus Group (www.focuscolumbus.com). This is an excellent group and we always have fun learning from each other.
My Sony Alpha 100 is holding up but the sensor is in need of cleaning. This is the one thing about digital photography that bugs me. You get a blob on the sensor and it's there in all images. They are especially painful in images made with small apertures.
Update from Chuck, February 2007: It's been four years since I first opened this website and I find myself having tremendous fun making new images. As you can imagine it's difficult keeping up with them all. 2003 was a record year for me with over 3200 new images added to my collection and 2004 was not far behind. Some of them are on this website with others waiting for the right time to appear. All of my prints are still made on traditional photographic paper. Some are made directly from my slides while others are scanned and printed on photo paper using high tech light printers. However, the pressure is on to go digital. Suppliers are disappearing and the rest of them are making it difficult to continue shooting traditional film. Digital capture certainly produces fine images but the initial cost outlay is still outrageous. And at the end of October of 2006 I bought my first digital camera - the Sony Alpha 100. It's a 10.2 Mega pixel camera. Since I have been a Minolta shooter for years, I had several lenses that now work with this new camera. As of this writing I have already made over 2000 images. Of course many of them are for experimental purposes getting to know the camera and its capabilities.
I have been honored to have my images displayed in places ranging from corporate headquarters to a local bed and breakfast. I continue to be president of the Worthington Area Art League and stay actively involved in the Focus Group and the Westbridge Camera Club. All of these groups have allowed me to grow in my image making. I have also met many wonderful and helpful people. I encourage everyone who is interested in photography to join a group like one of these. I continue to look forward to the future and for those who are curious, I am still retired from the other rat race!
In 2003 I visited many great places but most memorable were a spring trip to the Great Smokey Mountains, a September trip to Yellowstone National Park and the Tetons followed closely by a trip to the Upper Peninsula of Michigan with a group of die-hard photographers. Somewhere in October Linda and I squeezed another trip to West Virginia.
In 2004 I visited Ketchum, Idaho in February (skiing was great!) and I even made a few images. Of course I still frequent my many favorite places right here in Ohio and I spend as much time as I can at our cabin in Hocking County. Linda and I traveled with a close friend to Yosemite and the Monterey and Carmel areas in September. In December my ski buddy, Dan, and I trekked off to Steamboat Springs, Colorado for a week. In 2005 I have managed another ski trip this time to Banff, Alberta, Canada. It has to be one of the most beautiful places around. And as winter came to a close and gardening time was arriving Linda and I made one more trip to Colorado. It brought additional photo opportunities and more skiing. The summer of 2005 came and I made yet another trip to Colorado. The mountain flowers and waterfalls were outrageous. I hope by the time you read this I have a few of those images ready for the web. In November of 2005 we trekked to Orlando and Walt Disney Word. As always there are the many local trips to make images.
In 2006 I ventured to Lake Tahoe for some fine skiing and a little photography. The spring brought another trip to the Canaan Valley in West Virginia and up to Dolly Sods. This time Linda and made an all day trek around the north end of Dolly Sods. What a beautiful place, especially away from the road. For a period of nearly 8 hours we only passed 1 other person. July brought a very relaxing trip to Maine. Most of our time was spent on Mt. Desert Island after a two night stay on Bailey Island near Portland.
So far in 2007 Linda and I have ventured to Vail for some skiing and photography.