Welcome!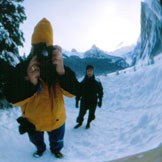 January, 2017

I'm way behind on updating this website. Some new travels and events are in the process of being added. Look for some new navigation and gallery formats as well. But be patient. Sometimes you might find images popping up on facebook before they appear hear. (facebook - Chuck Zelms)

I am enjoying my Sony A99 - well into its second year. And well over 22,000 images.

Hope to see you soon!
You have reached my web page. I have been creating images like this since 1973. Now it is time to share these images with my friends around the world. Check back periodically to see more of my images and my changing web site. In this site you'll find images from a wide variety of subject. I have my favorites - sunrises, sunsets, and waterfalls. But there are many landscapes, flowers, animals, and architectural subjects as well.

Thanks for Stopping by. I hope you enjoy viewing the images as much as I enjoyed creating them.


Chuck Zelms

PS Ė Thatís a self portrait (OK so you still canít see me behind the camera) with my friend Dan at Lake Louise, Alberta, Canada. Gazing balls work great for contorted views of the world.

REMEMBER: All images are copyright protected and it is illegal to reproduce these images for any reason. All images are available for purchase unless otherwise noted.